About Us
A Trusted, Friendly Neighbor—From Day One.
Our origins date back to the 1930s when Ben Ayer, a farmer in Henniker, supplemented his farming income by hauling and delivering oil. Eventually, he and Don Goss Sr. bought the local fuel delivery business that today bears their names.
Our entire team is dedicated to providing friendly, efficient service to our customers. And as a company, we're committed to philanthropy—and to making our home of Henniker, New Hampshire, a better place to live.
Reliable. Responsive. Friendly. Professional. Caring.
These are the words our customers use to describe Ayer & Goss. Each day we come to work, we are committed to upholding these expectations.
A local company
Located in Henniker, the Ayer & Goss team calls many of the communities we serve home. We consider our customers our neighbors and make the promise to always be there for them.
Exceptional service and speedy delivery
We are your reliable friend on a cold morning, with prices and service that will not let you down.
Committed to our community
We strive to build lasting relationships with our customers. We care about the community and are always looking for opportunities to give back.
I am so thrilled and extremely thankful to the Ayer & Goss team. I have propane heat in the greenhouse to grow to my hearts delight! Many thanks, everyone!
Krista P.
Sutton NH
I have had great experiences at Ayer & Goss. The staff is always friendly and ready to answer questions. They are a great part of the Henniker community!
Olivia B.
Henniker NH
The best! Our home appreciates everyone in your company! Great response. Great service. Great personalities. Thank you all for taking care of us.
Mark & Tina S.
Henniker NH
Drivers, crew, and office staff go above and beyond! GREAT customer service!!
Patti B.
Newbury NH
Always fast and courteous service. We love everyone at Ayer & Goss. Try them, you will not be sorry - they are the best around.
Paul B.
Antrim NH
Thank you for going above and beyond to give great service! Reminds me how happy I am to have chosen Ayer & Goss to keep me warm!
Mary D.
View delivery areas.
Proudly serving the propane and heating oil delivery needs of Henniker and surrounding New Hampshire communities for generations.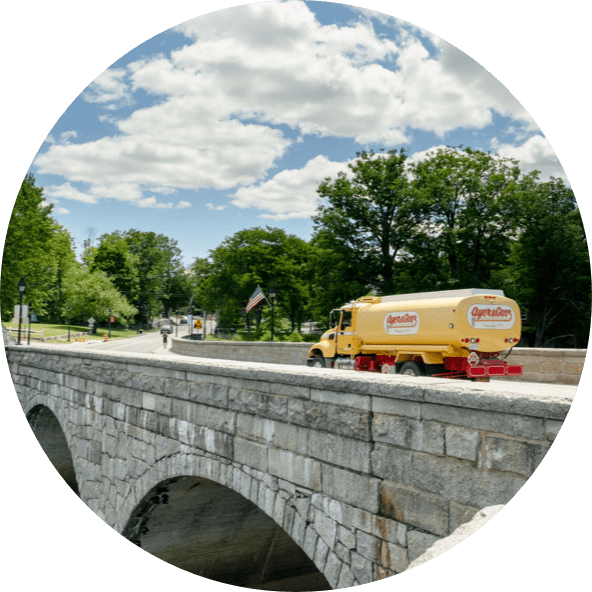 Become a Customer
Set up your new account now, and conveniently order fuel whenever you need it—in just a few convenient seconds.